11/8/2023
Starting a team project requires good planning, a robust method, and cohesive collaboration. Among many project management methods, the 7th edition of PRINCE2 stands out with a focus on people management, enabling project managers to recognize that human capital is the key to a successful project.
While this methodology provides a step-by-step guide for running, managing, and completing projects successfully, PRINCE2 7 also helps people adopt new working methods. Meaning, it's adaptable and blends well with other models. It can also be used in any project, helping teams speak a common language and approach.
This blog explores PRINCE2's journey from the 6th to the 7th edition and its impact on modern project management. Let's learn about its principles, practices, focus on people, and sustainability in team-based projects.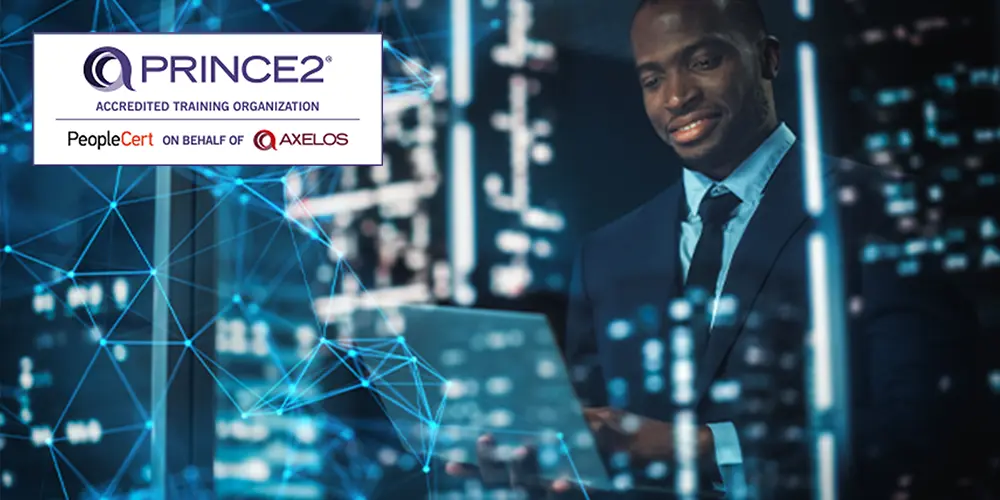 What is PRINCE2 Project Management?
PRINCE2, short for "PRojects IN Controlled Environments," is a project management methodology. The UK Government first developed the method, which is now used globally. PRINCE2 has guiding principles, practices, a process cycle, and advice to tweak the method for different projects and manage product delivery.
A key point in PRINCE2 is its focus on the project's products, making clear what needs to be delivered with the desired quality. By using a "management by exception" approach, PRINCE2 saves managers time while continuously checking the project's worth.
The wide availability of training and consulting for PRINCE2 helps organizations get skilled support for their projects. Clear role definitions in PRINCE2 ensure everyone knows what's expected, promoting good teamwork and project success.
What Stayed the Same?
Moving to PRINCE2 7 from its 6th edition gives you different results with the same measurable impact. Projects remain temporary endeavours focused on creating specific products. PRINCE2's method continues in the 7th edition with the same structure. This structure includes principles, practices (formerly known as Themes) and processes in the life of a project, just as before.
While there are some changes, the main framework remains steady. The 7th edition will provide updated diagrams and four project examples to show the PRINCE2 process across different projects. This update aims to make the method easier to adapt and use in various fields.
What's New in PRINCE2 7?
PRINCE2 7, by AXELOS, brings a refined approach drawing from its rich history since 1996. This edition aligns better with today's project management shifts.
Central Focus on People Management
A notable change is the focus on People Management, showing the crucial role people play in project success. This emphasizes the importance of people and organizational change management in the project transition from the current state to the target state.
Sustainability in Project Performance
PRINCE2 7 introduces sustainability as a seventh project performance aspect, aligning projects with modern needs like environmental and social responsibility. The business case chapter now expressly acknowledges the importance of sustainability, bringing to the fore discussions on environmental targets and tolerances as part of the business case.
Embracing digital and data Tools
Embracing artificial intelligence (AI) and the digital age, PRINCE2 7 includes digital and data management tools to meet the needs of today's project management professionals.
This restructuring in PRINCE2 7 is more than just updated terms; it's about a better planning approach. For example, the 'plans' practice now stresses creating and keeping a social contract, not just making documents. These updates ensure PRINCE2 remains robust, adaptable, and ready for modern project management challenges.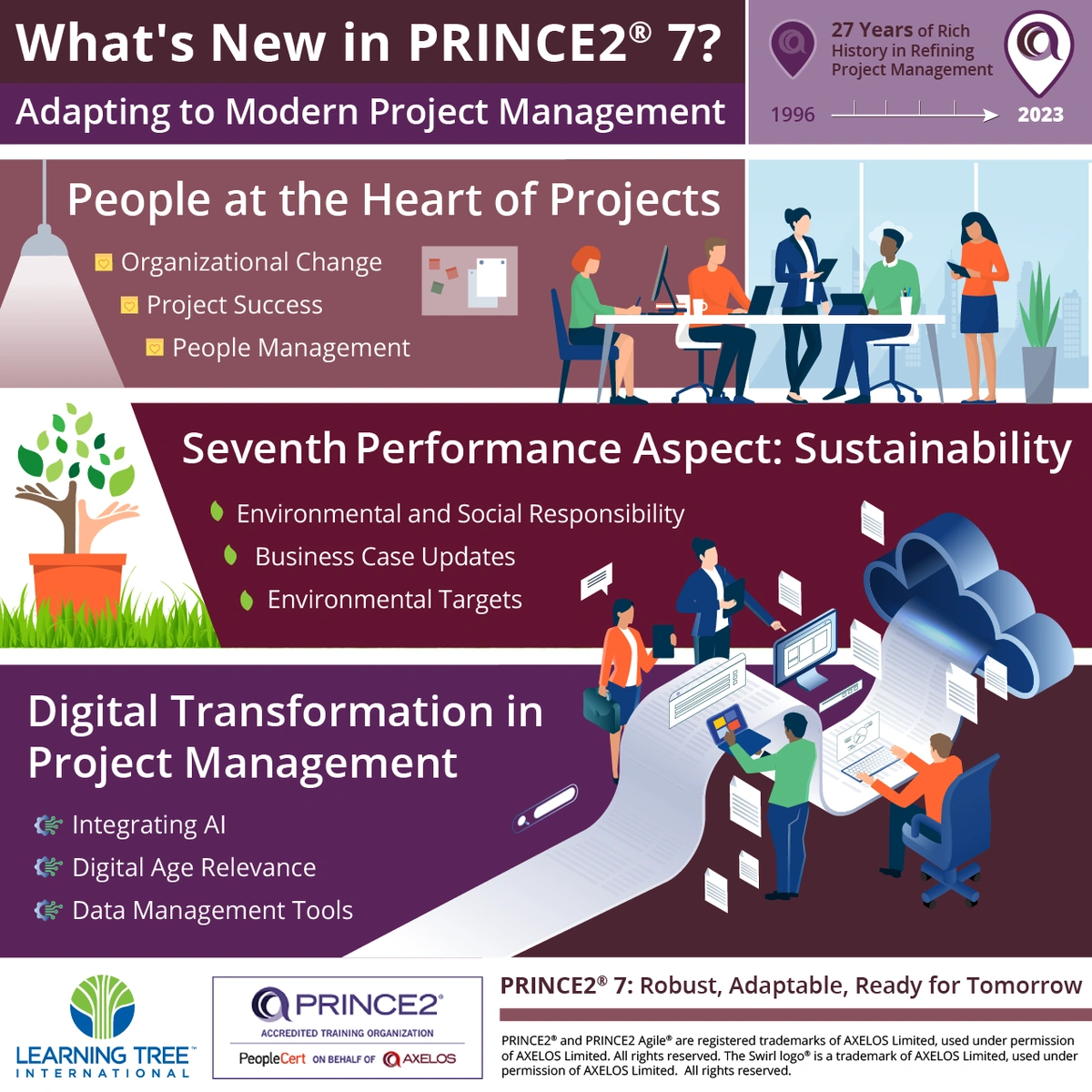 What Are the Benefits?
PRINCE2 7 provides a new perspective on project management that is beneficial for both learners and practitioners in various industries. This edition is updated, stressing the importance of PRINCE2 methodology in today's dynamic working environment. It provides a complete understanding of the method, aiming for better project results and satisfied customers.
Improved Flexibility and Customization
A significant improvement is better customization and project flexibility, reducing rules, but maintaining the core of PRINCE2, which shows its value for unique projects in different sectors, industries and professions.
PRINCE2 for All
The slogan 'PRINCE2 for All' emphasizes simplified language and content, making PRINCE2 more open to wider audiences. This inclusivity aims to spread project management knowledge, encouraging shared understanding and teamwork to reach project goals.
Full Tailoring for Agility
PRINCE2 7's compatibility with Agile, Lean, and ITIL methods helps Project Managers react quickly to changes or challenges, boosting project performance.
Evolving to Changes in the PM Space
The evolution to PRINCE2 7 shows an intelligent adaptation to the rapidly changing field of project management, not only keeping up, but also leading people to better, inclusive, and adaptive project management practices. It's about how culture changes and develops over time.
Maintaining Your PRINCE2 Certification
Learning Tree International, an Accredited Training Organization, can help you earn and keep your PRINCE2 certifications up to date. As the world's leading learning partner, Learning Tree prepares students for the exams using innovative learning technology, coaching from Subject Matter Experts, and hands-on exercises conducted during class.
Once you pass, keeping your certification is the next step. By joining specific AXELOS-approved courses, you can earn Continuing Professional Development (CPD) credits to keep your certification current.
If you get the PRINCE2 certificate from Learning Tree, you'll also get a one-year AXELOS My PRINCE2 membership for free. You can use My PRINCE2 to maintain your certificate without retaking the exam every three years. This certificate lasts three years. Before it ends:
Join AXELOS within three months of passing your test. Stay a member by renewing every year for three years.
Keep and renew your PRINCE2 digital badge, which comes with the membership. You'll need to earn 20 yearly points.
The following Learning Tree courses can help you earn these points. They're approved by AXELOS and listed in our PRINCE2 FAQs.
"Should I update my certification to PRINCE2 7?"
If you have a PRINCE2 6th Edition certificate, upgrading to the 7th edition is advisable when recertifying. You'll be asked to take suitable courses and pass the PRINCE2 Foundation exam again. Remember, you may only be required to recertify every three years, but it is recommended you upgrade to version 7 to stay updated and maximize your learning.
"Should I get this certification if I already have a PMP?"
Absolutely! See the following chart below. The PRINCE2 methodology is also recognized by the Project Management Institute (PMI), so it's easy to maintain your project management professional (PMP) by earning PDUs awarded by PRINCE2 certification courses and hold both project management certifications.
PRINCE2 courses vary in length. For example, the PRINCE2 7th Edition Foundation course lasts 3 days, while the Practitioner Certification Training is for 2 days.
| | | | |
| --- | --- | --- | --- |
| PRINCE2 Course | Duration | PMI Credits | AXELOS Credits |
| | 3 Days | 17 PDUs | 15 CPDs |
| | 2 Days | 11 PDUs | 15 CPDs |
| PRINCE2® 7th Edition Foundation and Practitioner Certification Training | 5 Days | 29 PDUs | 15 CPDs |
| | 2 Days | 11 PDUs | 15 CPDs |
| | 3 Days | 17 PDUs | 15 CPDs |
| | 5 Days | Pending | 15 CPDs |
* Currently, only the PRINCE2 Foundation and Practitioner exams are being updated. The PRINCE2 Agile scheme will be updated later by PeopleCert.
Perfect for all Project Management Professionals!
Take Aways
Project management is ever-changing, and requires a method like PRINCE2 that evolves, too. The 7th edition, focusing on modern needs, digital tools, and people management, shows a forward-thinking approach. Whether you're a seasoned project manager or just starting, moving to PRINCE2 7 is an intelligent choice.
With training institutions like Learning Tree, the transition is effortless, ensuring you're ready to tackle modern projects while promoting a culture of continuous learning and improvement.